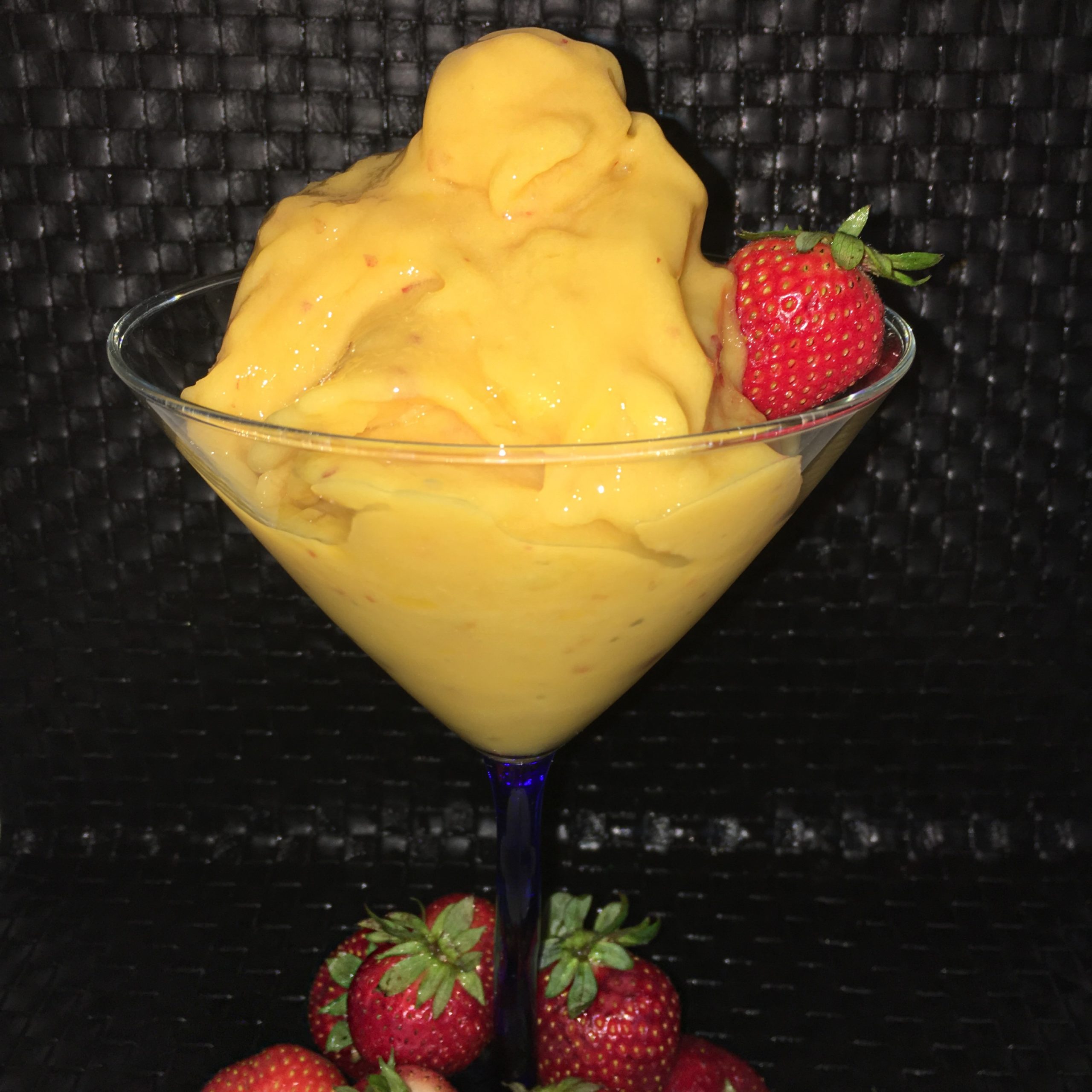 *Raw Peach Sorbet*
I absolutely love raw sorbets! SO tasty and simple to make. Raw sorbets are the best ice cream alternatives and can be eaten for breakfast or dessert. If you have children they will also love them. Enjoy Lovelies ♡
*Raw Peach Sorbet* (1 serving size )
Ingredients: (all organic)
2 Frozen Mangos (Chop up and freeze overnight)
2 Frozen Peaches (Chop up and freeze overnight)
1/2 Cup Fresh Orange Juice (Or Water)
1 Tbs Raw Agave Nectar (Or coconut nectar, maple syrup)
Toppings: Fresh strawberries + rough chopped peaches + chia seeds (not pictured because it started to melt before I could snap another picture!
Directions:
1. Place all ingredients inside food processor + allow to process until you have a sorbet texture (45 secs)
2. Pour sorbet into a serving dish + add toppings + eat right away because it melts quick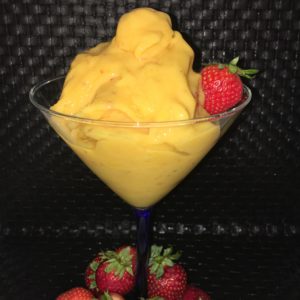 Thanks so much for checking out this recipe. I hope you all love this treat as much as I do. Comment and let me know your thoughts!  Don't forget to share the website with your friends and family♡
ANNOUNCEMENTS📢📢:
**Due to BeAHealthNutToo transitioning into an online health and wellness store we are "Discontinuing" the 🎀Stay Inspired🎀 T-Shirt collection!! That's GREAT news for you because you can now grab a tee for HALF OFF only 11$ for the next 6 days ONLY until we sell out!! EVERYTHING MUST GO! Some sizes are already sold out and we are not restocking so don't wait GRAB YOUR TEE NOW before they're gone for good! ✨CLICK link to catch the FINAL SALE>>>YES! I WANT ONE!
** Great News the BeAHealthNutToo Beauty Soaps are BACK IN STOCK and selling so FAST!!! In just a week we are already SOLD OUT of the Grapefruit Bliss+ Lemongrass sensation +Citrus Splash and only have a few of the others left in stock. Don't wait GRAB YOUR SOAPS NOW before they're gone!! Click here to order >>>YAY! I want some soaps!
** The BeAHealthNutToo Vegan Herbal Supplements are FINALLY available. We are SOLD OUT of the HAIR-SKIN-NAIL Formula and only have a few of the others left in stock. Our herbal formulas are Vegan, and contain No Chemicals, Toxins, Additives, or Junk. We have 8 formulas available and a VERY limited quantity.They are already selling SO fast. Grab yours NOW while supplies last. Click Link to order>>> Grab Mine NOW!
** We are so excited to announce that BeAHealthNutToo is expanding into a health and wellness store. We will still feature new recipes and all the things you already love, with the addition of products. 
** You can also now watch inspirational videos + raw food tutorials on my youtube channel. Youtube page link is at the top of the website. Enjoy!
Hugs & Happy Raw Sorbet Eating,
LaShana Nicole❤