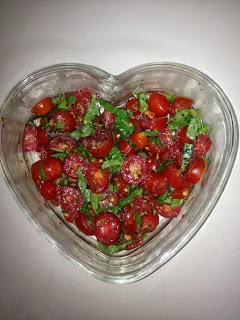 *Raw Bruschetta*
 Who ever said eating healthy was no fun? Thats totally not true. I love that I am able to eat raw very healthy foods and make them taste similar to some of my favorite dishes minus the not so good stuff of course haha. This is a great dish to eat for lunch or as a party favor. Super yummy and loaded with nutrients. I will list some of the health benefits of some of the ingredients at end of blog.
*Raw Bruschetta*
Ingredients: (all organic)
15 organic sugar plum tomatoes
3-5 fresh basil leafs
1-2 crushed fresh garlic clove
1 tbs of balsamic vinegar (or apple cider vinegar if you don't have balsamic)
1+1/2 tbs of extra virgin olive oil
1/2 teaspoon of himalayan salt
1/2 teaspoon of black pepper
Pinch of garlic powder
Gluten Free Vegan Crackers of choice
Optional:Red pepper flakes (gives a spicy kick pretty tasty)
Optional:Parsley or cilantro(Note:I didnt use any)

Directions:
1. Rinse your tomatoes+basil
2. Chop your tomatoes up small+cut basil up into tiny strips inside bowl(Note: I used scissors to cut)
3. Add your garlic+ACV+olive oil+all seasonings
4. Mix + Taste to see if you want to add more of any seasoning
 5. Place your bruschetta inside dish + add vegan gluten free crackers
Enjoy this delightful dish! It's SO YUMMY♡
Health benefits:
Basil

– Is one amazing herb, it has antibacterial properties that help boost the immune system and fight off illness as well as bacteria. Basil is high in beta carotene, magnesium, essential oils and is very rich in antioxidents which helps promote a healthy heart, cardiovascular health, active blood flow, as well as the healthy skin. 



Tomatoes

– Are amazing when it comes to helping the body maintian optimum health. Lycopene found in tomatoes help drastically with fighting off illness especially several forms of cancer including prostate & breast cancers. Tomatoes are also a great source of fiber, beta-carotene,vitamin A & C, which help with fighting off free radicals and premature aging.



Garlic

– Is great for its antiviral properties. Consuming garlic will help with fighting off allergies, viral fungal & bacterial infections. Garlic contains ajoene(a sulfar rich molecule) which helps with thinning our blood helping to reduce the possibility of blood clots. It also contain allicin which helps with reducing & controlling  the blood pressure.

Thanks so much for checking out this recipe. I hope you all love it. Comment below and let me know your thoughts! Don't forget to share the website with your friends and family♡
ANNOUNCEMENTS📢📢:
** Our VEGAN Deodorants, Lotions, and Body-sprays are BACK IN STOCK! The deodorants are almost SOLD-OUT again in just one week! Snag your health goodies now before we sell out! Click the link to order>> Health Store
** THE WAIT IS OVER! Our Best-Selling Beauty Soaps are BACK IN STOCK, but are almost SOLD-OUT AGAIN! Here's your chance to grab some while we still have all blends available. Click here to order >> Beauty Soaps
** You can also now watch inspirational videos + raw food tutorials on my You tube channel. Youtube page link is at the top of the website. Enjoy!
** Thanks SO much everyone for all your love and sweet support! I appreciate each of you!
Hugs & Happy Health,
LaShana Nicole ♥