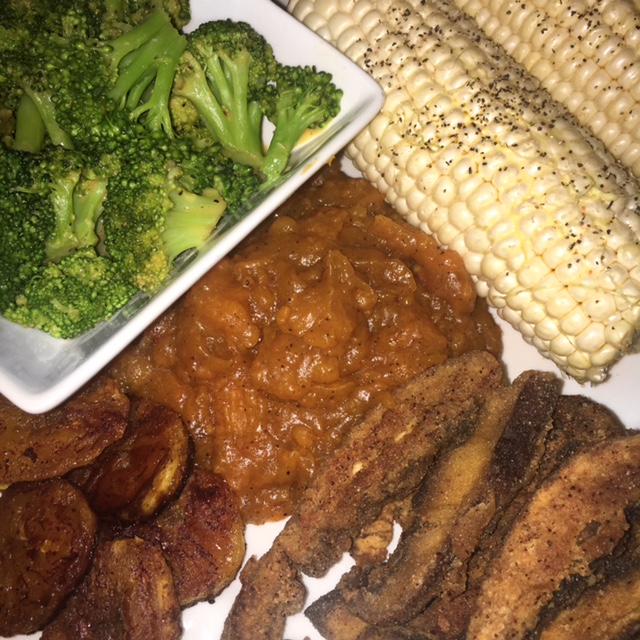 *Portobello Chick'n Strips*
These portobello vegan chick'n strips and marshmallow yams are so good! The portobello strips are super simple to make and the perfect substitute when you're craving a fried treat. Hope you guys love this tasty meal♡
*Portobello Strip Ingredients*(Serving Size: 20 strips)
2 Organic Portobello Mushrooms
1 Cup of Spelt Flour (or all purpose flour)
1/2 Tbs Garlic Powder
1/2 Tbs Onion Powder
1/2 Tbs Smoked Paprika
1 Tsp Black Pepper
1/2 Tsp Himalayan Pink Sea Salt
1/2 Tsp Red Pepper Flakes
Dash Of Cayenne Powder (Omit if you don't like spicy, feel free to add all seasonings to your taste preference)
Grape seed Oil for Frying (Measure according to your pan size)
*Broccoli & Vegan Cheese Ingredients*
2 Cups of Organic Broccoli
1/2 Cup of Follow Your Heart Vegan Cheddar Cheese Shreds
Dash of Himalayan Pink SeaSalt & Pepper (to taste)
*Marshmallow Yam Ingredients*
2 Organic Yams
4 Vegan Marshmallows (I used the trader joes brand)
1 Tbs Vegan Butter (I used the brand nutiva,earth balance, or miyokos)
1 Tbs Organic Maple Syrup
1/2 Tsp of Virgin Coconut Oil
1 Tsp of Cinnamon (add more to taste preference)
1 Tsp of Nutmeg (add more to taste preference)
Directions:
1. Boil your yams on med-high with water until soft and easy to cut around 45mins
2. Make your 'chick'n flour mix (add your spelt flour +all seasonings to paper or plastic zip lock bag + shake to mix)
3. Wash and rinse your portobello mushrooms REALLY well
4. Remove stem + gills of the mushroom (scoop it out with a spoon) + cut into small strips 
5. Add 8 strips to your flour mix + shake and evenly coat + add grape seed oil to pan + preheat
6. Add your broccoli + corn on the cob to separate pans with water + boil on med until fully cooked
7. Once your grape seed oil is ready add your portobello strips to the oil a few at a time
8. Cook them on each side until gold crispy brown  (around 7-10 mins pictured below)
9. Remove from oil + soak excess oil on paper towel if needed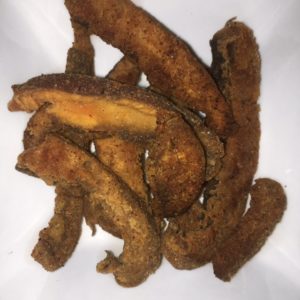 10. When your broccoli is done drain the water + add back to the pan + add vegan cheese
11. Cover with lid and cook on low for 3-5 additional minutes until mock cheese is melted
12. Once your yams are finished allow to cool so that you're able to cut them.
13. Cut+Remove skin+ smash the yams inside another pan +add marshmallows+syrup+ oil etc
14. Mix all ingredients together + allow yams to bake inside oven(at 325 degrees) an additional 8 mins
15. Check at the 4 min mark to make sure marshmallows have melted and all ingredients are mixed
16. Once all your ingredients are cooked add them to your plate and enjoy! So yummy and filling!
Note: I suggest cooking your yams first and when they have 15 minutes left to boil, start cooking your other side dishes and mock chick'n!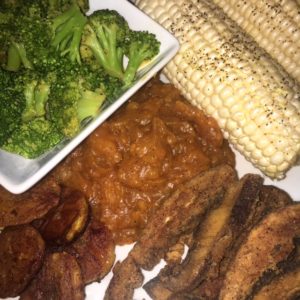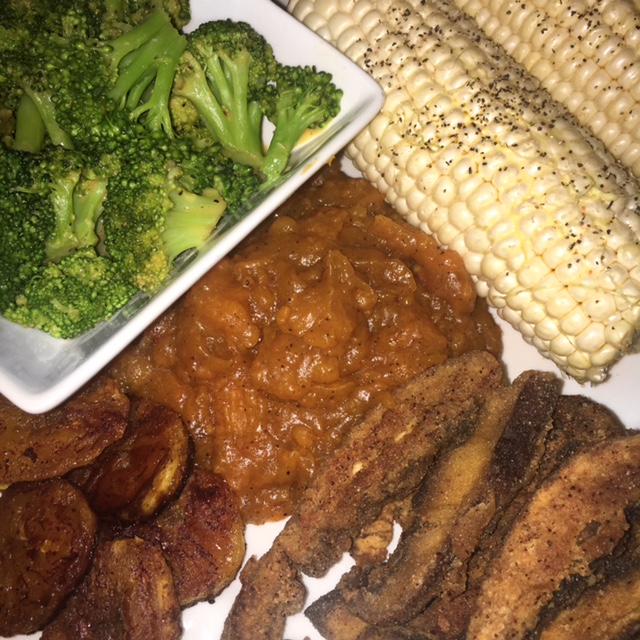 Thanks so much for checking out this recipe. I hope you all love it. Comment and let me know your thoughts below. Don't forget to share the website with your friends and family♡
ANNOUNCEMENTS📢📢:
**You asked, we listened! Our✨LIQUID CASTILE SOAPS✨are NOW available! Grab some here> HEALTH STORE
** The Be A Health Nut Too Hair Growth Oil is BACK in stock, but almost Sold-Out again! If you're dealing with damaged hair, balding, or looking to restore the health of your hair, SNAG some now>> HAIR OIL
** The Deodorants and Beauty Soaps are also back in stock! YAY! The Shampoo & Conditioner are both SOLD-OUT! I'll announce when they're back in stock!

** You can also now watch inspirational videos + raw food tutorials on my Youtube channel. The Youtube page link is at the top of the website!
** THANK YOU so much lovelies for your love and continued support! I adore each and every one of you!
Hugs & Happy Portobello Chick'n Eating,
LaShana Nicole❤