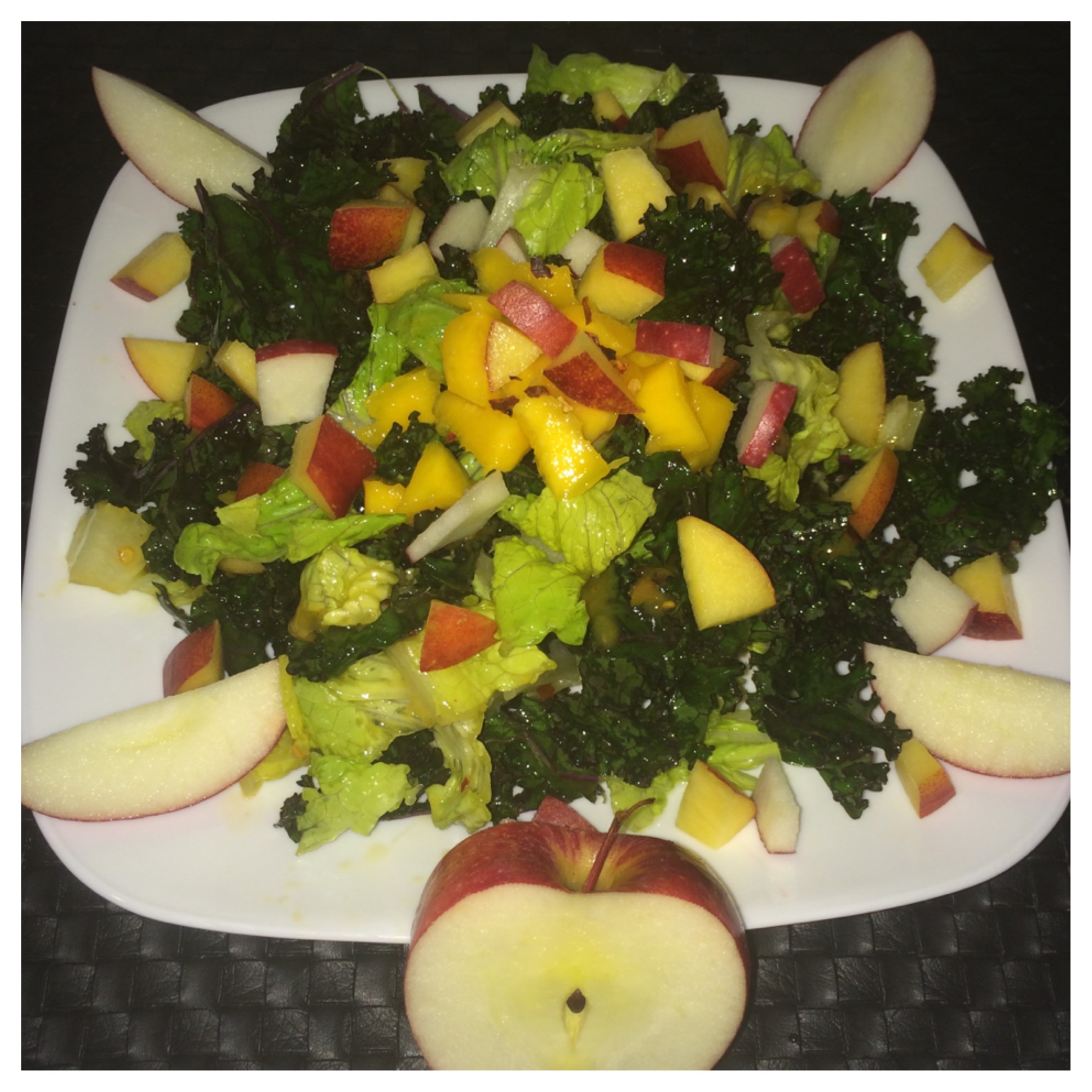 *Peppered Mango Salad*
This salad is the perfect combo of sweet and spicy flavors. So good and good for you!
*Peppered Mango Salad*
Ingredients (all organic)

Salad:
1 Romaine Lettuce bunch (2 Cups)
3 Kale Leafs
Toppings:
2 Fuji Apples
1 Nectarine
1/2 Cup Fresh Mango
Spiced Dressing Ingredients:
1 Ripe Red Mango
1 Tbs Fresh Lemon Juice
2 Tbs Alkaline Water (add more if needed)
2 Tbs Raw Apple Cider Vinegar
1/2 Tsp Red Pepper Flakes
1 Grated Garlic Clove
Pinch of Garlic Powder
Pinch of Himalayan Pink SeaSalt
Pinch of Paprika
Directions:
1. Clean + Rinse your kale + lettuce + place inside of a mixing bowl and set aside
2. Place all dressing ingredients inside of a food processor + allow to process until its smooth (dressing texture)
3. Chop up your toppings + add to mixing bowl + pour dressing on top + shake all ingredients until salad is evenly coated
4. Place salad on a serving dish + add more fruit toppings + eat right away.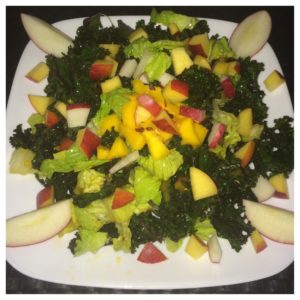 Thanks so much for checking out this recipe. If you found this blog helpful be sure to share it with friends and family♡
Announcements:
** Today ONLY don't miss our 14$ Stay Inspired Tshirt sale. It ends in a couple hours!
https://www.beahealthnuttoo.com/store/products/
** The first online Raw Food Class was a blast! Thank you everyone who signed up and for all of your positive feedback. I cant wait for the next one💕 Ill announce the date soon. Check out details on the "Shop" page!
 ** SOO Excited ☆The 5 Day Raw Food Detox☆ Recipe Ebook is now available! Use code "Health" for 15% off. 
** You can now watch weekly inspirational videos + raw food tutorials on my youtube channel. Link is about at the top of website.
Hugs & Happy Peppered Salad Eating,
LaShana Nicole ❤