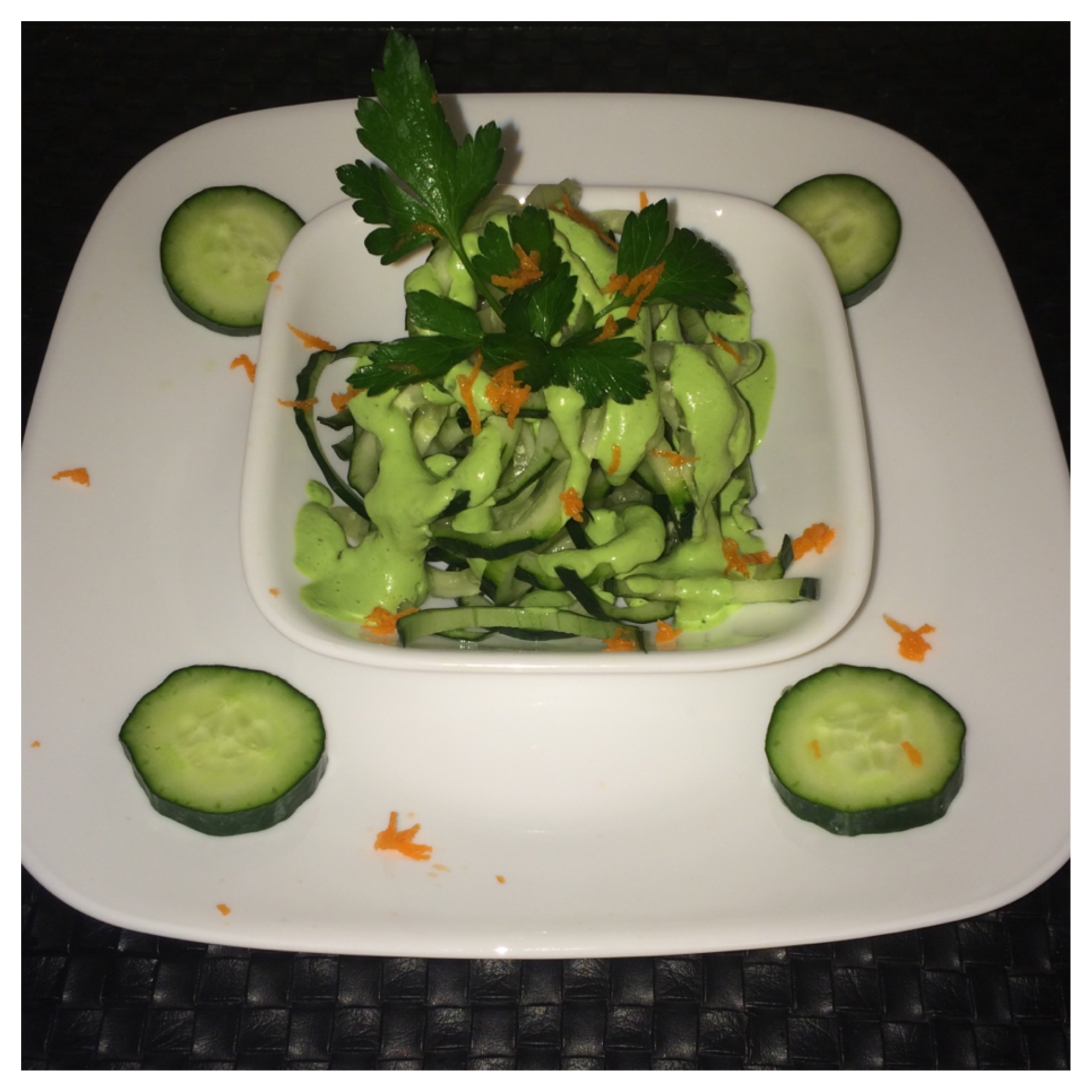 *Parsley Drizzled Zoddles*
*Parsley Drizzled Zoddles Recipe*
Ingredients:
Noodles: 1 Cucumber or Zucchini
Parsley Sauce:
1 + ½ Cups Of Fresh Parsley Leafs
2 Tbs of Raw Tahini
½ Cup Activated Raw Sunflower Seeds (To activate soak overnight)
½ Tbs olive oil
1 Grated Garlic Clove
Juice From A Small Lemon (Approx. 5 Tbs)
½ Cup-1 Cup Alkaline Water (start with ½ cup & add more if needed)
½ Tsp Himalayan Pink Seasalt
½ Tsp Black Pepper
½ Tsp Garlic Powder
Directions:
1. You will need a spiralizer (I use the brand Paderno from amazon)
2. Place your cucumber on blade of + spiralize to make raw noodles
3. Place all your dressing ingredients inside of high speed blender + blend
4. Blend until smooth + pour dressing on top of noodles + Eat right away
Thanks so much for checking out this recipe. If you found this blog helpful be sure to share it with friends and family♡
Announcements:
** SOO Excited ☆The 5 Day Raw Food Detox☆ Recipe Ebook is now available! WOOHOO! Use code "Health" for 15% off.  http://lashananicole.com/store/products/ 
 ** I will be announcing the first LIVE Raw Food class date soon. Cant wait!
 ** You can now watch weekly inspirational videos + raw food tutorials on my youtube channel. Link is about at the top of website.
Hugs & Happy Parsley Zoddle Eating,
LaShana Nicole ❤