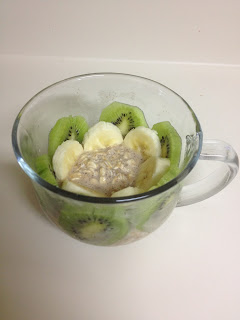 *Over Night Oats*
I finally made over night cinnamon maple oats and they are so good. Overnight Oats are the perfect on the go quick yet filling tasty breakfast
Ingredients:
1/3 cup certified gluten-free (raw) oats
1/3 cup of almond milk (Note: Use equal amounts of oats + liquid)
1 teaspoon of cinnamon
2-3 tablespoons 100% maple syrup (Feel free to use organic cane sugar)
1 Fresh Kiwi
1/2 Banana
1/2 teaspoon of vanilla extract
Optional: Add any fresh fruit
Optional: Chia seeds
Optional: Walnuts, Pecans, Cashews
Directions:
1. Place your GF raw oats + Nutmilk into glass or bowl (Note: Use same amount liquid & oats I have two sizes here just to show the oats & milk side by side)
2. Add Cinnamon + Vanilla flavoring
3. Let the oats sit in the refrigerator over night.
4. In the morning the oats will soak up all the liquid creating a thick texture
5. Stir oatmeal + add sweetener +add your sliced up fruit inside glass or bowl
Perfect quick filling nutritious breakfast. Enjoy 🙂
Hugs to all my Health Nut Friends,
Shana Nicole