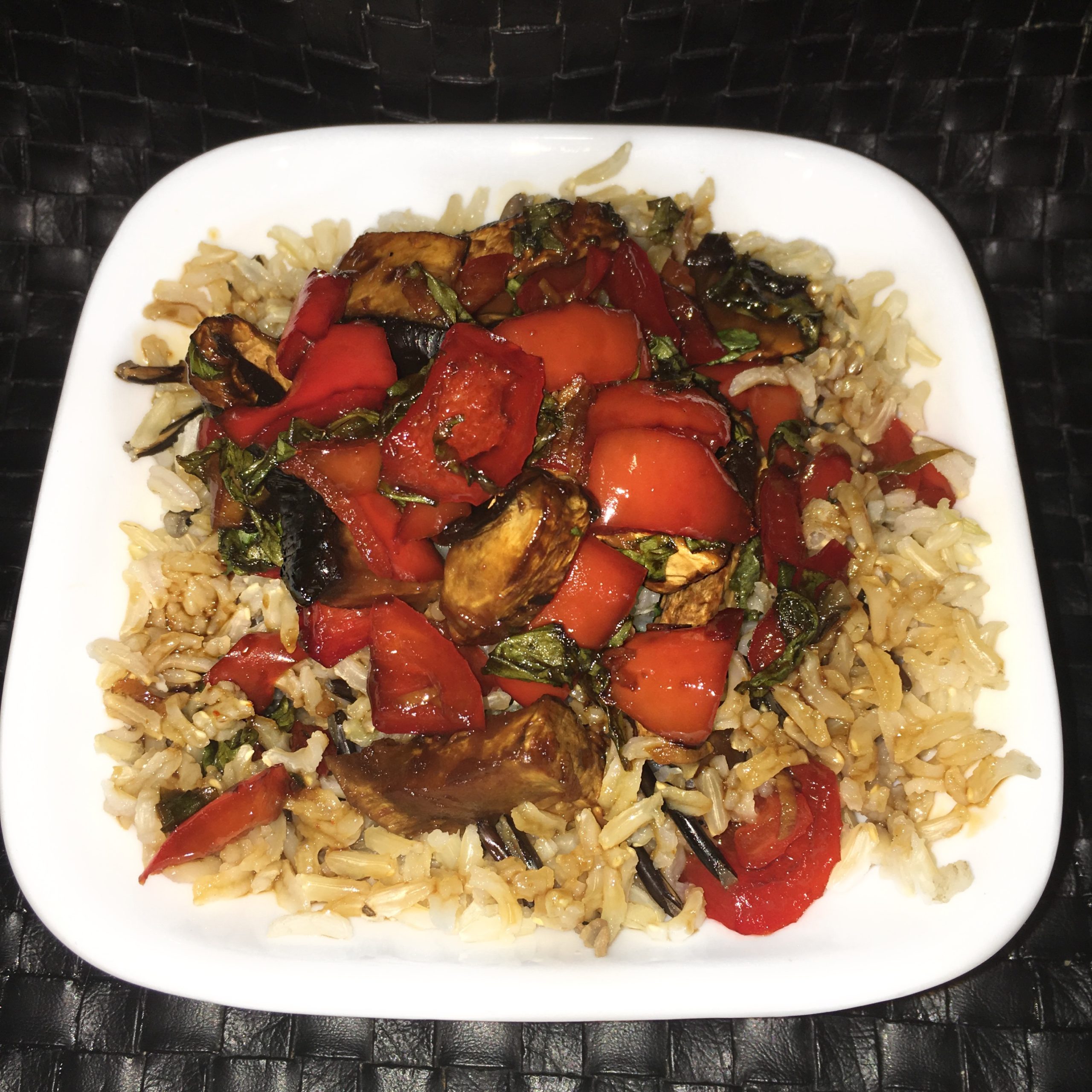 *Mushroom Stir-Fry*
I have been in the kitchen a lot more lately creating more main mushroom dish recipes for all of you. I know making the healthy transition can be difficult when you have no idea what to eat or where to start. I had that issue when I started my journey a few years back, I pray that I am able to assist you along the way. This mushroom stir-fry turned out really amazing and it has definitely been added to my must-haves list. Enjoy this dish my healthy friends♥
*Mushroom Stir-Fry* (Serving size:2)
Ingredients: All organic
1.5 Cups of Wild Rice or Black Rice (I used the 365 Brand from whole foods)
1 Large Portobello Mushroom Cap
1 Medium Size Red Bell Pepper
1/2 Cup of Rough Chopped Basil
3 Small Garlic Cloves (Grated)
4 Tbs Tamari Sauce
4 Tables Maple Syrup
Juice from half a fresh lemon (remove seeds)
1 Tbs Extra Virgin Olive Oil (or Sesame Oil)
1 Tbs Alkaline Water
Dash of Cayenne Powder
Dash of Himalayan Pink SeaSalt
Dash of Garlic Powder
Directions:
1. Place your rice inside water + boil according to directions on package
2. While rice is boiling, rinse and clean your mushrooms+ basil +red peppers + rough chop all
3. Set veggies aside + add your olive oil + grated garlic to pan + allow to sauté on med heat 2mins
4. Next add your tamari + syrup + lemon juice + all seasonings+ H20 to pan + allow to sauté 5 mins
5. Next add your chopped veggies to your marinade + stir + coat evenly + allow to sauté 10 mins
6. Once your veggies are cooked and evenly coated with marinade add on top of your cooked rice
7. I stirred my rice inside the stir-fry as well. Serve in dish and bon appetite!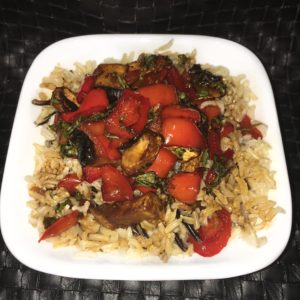 Thanks so much for checking out this mushroom stir fry recipe. I hope you all love it. Comment and let me know your thoughts below. Don't forget to share the website with your friends and family♡
ANNOUNCEMENTS📢📢:
** THE WAIT IS OVER! Our Best-Selling Beauty Soaps are BACK IN STOCK. Here's your chance to grab some before they sell-out again. Click here to order >>>Beauty Soaps
** We are SOLD-OUT of ALL the deodorants!! Back-order is now available and I'll announce when they are back in stock soon. We still have a few Lotions, Body Sprays, Shampoo, and Conditioner in stock. Snag your vegan goodies today! Click the link to order>> Health Store
** You can also now watch inspirational videos + raw food tutorials on my You tube channel. Youtube page link is at the top of the website. Enjoy!
** Thanks SO much everyone for all your love and sweet support! I appreciate each of you!
Hugs and Happy Mushroom Stir-fry Eating,
LaShana Nicole♥