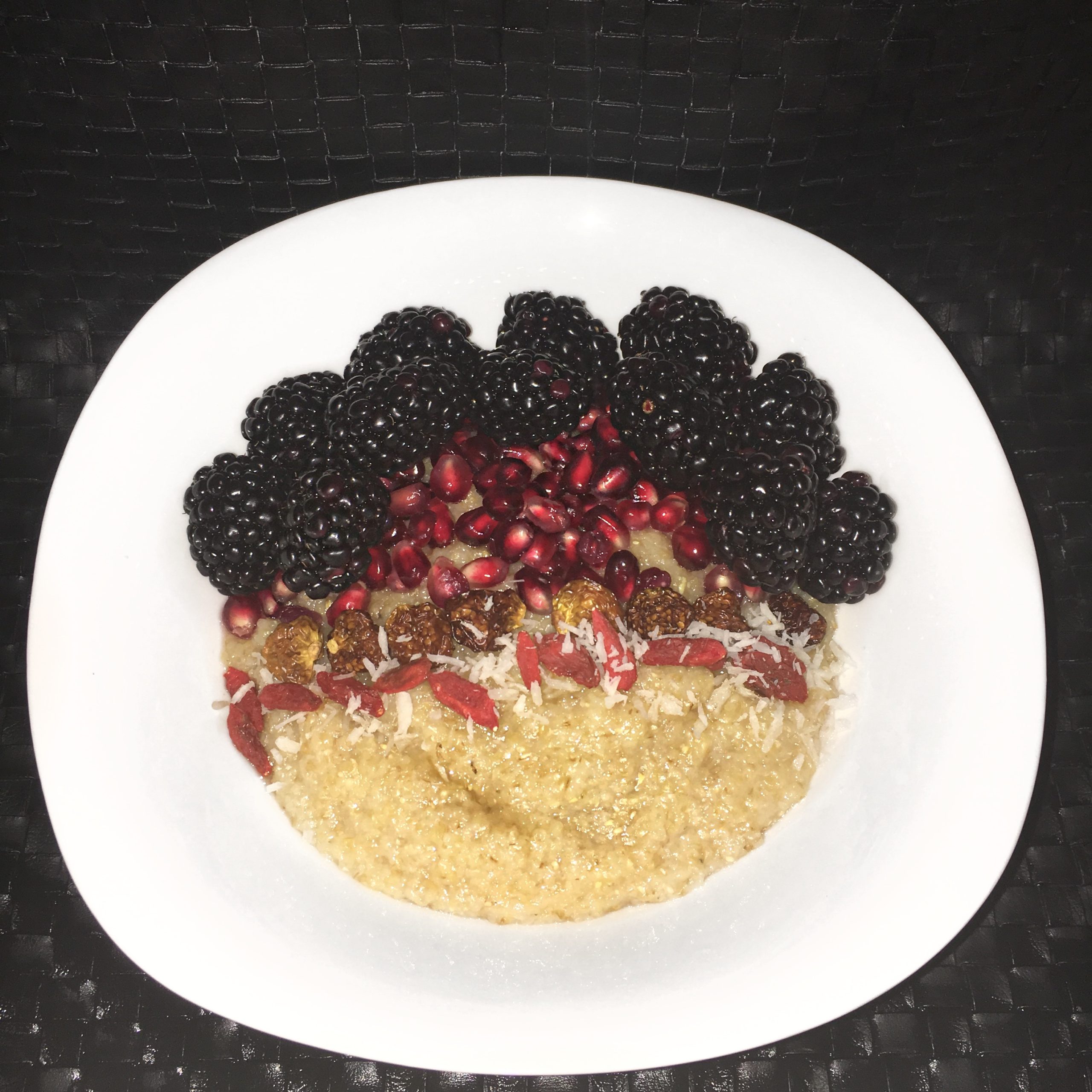 *Kamut Porridge*
Kamut is an ancient whole grain that is not only tasty but is loaded with fiber, magnesium, manganese, protein, zinc, and B Vitamins! This porridge is filling and the perfect way to start your day. Enjoy friends!
*Kamut Porridge*
Ingredients:
1 Cup Kamut Hot Cereal ( I used the brand Bob's Red Mill)
2 Cups of Alkaline Water
1 Tsp Vanilla Extract1/2 Tbs Coconut Oil or Vegan Butter
2 Tbs of Raw Agave Nectar or Organic Maple Syrup
Dash of Himalayan Pink SeaSalt
Toppings:Blackberries+Pomegranate Seeds+Goji Berries+Golden Berries +Coconut Shreds
Directions:



1. Pour 2 Cups of alkaline water into a pot + bring to a boil
2. Next add your kamut + salt to boiling water + allow to cook on med/low heat for 10 mins
3. Once almost complete mix in your vegan butter + raw agave or maple syrup
4. Once your porridge is finished pour inside serving bowl + add fruit toppings! Yum!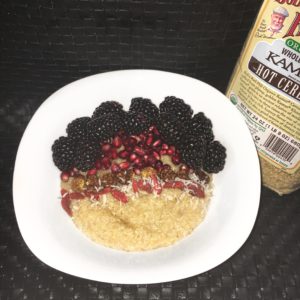 Thanks so much for checking out this porridge recipe. I hope you all love it. Comment and let me know your thoughts below. Don't forget to share the website with your friends and family♡
ANNOUNCEMENTS📢📢:
**ALL deodorants are BACK IN STOCK! We still have a few Lotions, Body Sprays, Shampoo, and Conditioner as well. Snag your vegan goodies today! Click the link to order>> Health Store
** THE WAIT IS OVER! Our Best-Selling Beauty Soaps are BACK IN STOCK. Here's your chance to grab some before they sell-out again. Click here to order >>>Beauty Soaps
** You can also now watch inspirational videos + raw food tutorials on my You tube channel. Youtube page link is at the top of the website. Enjoy!
** Thanks SO much everyone for all your love and sweet support! I appreciate each of you!
Hugs and Happy Porridge Eating,
LaShana Nicole♥