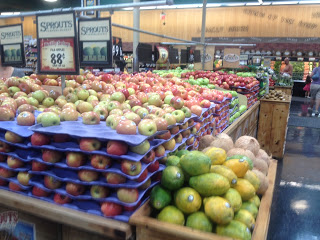 *Eat Healthy on a Budget*
So you may be a person who REALLY wants to eat healthy but feel you can't afford it. You may be a single mom, a college student, a struggling artist, a single family household etc.  I have been asked over and over how to eat healthy on a tight budget. Who ever you are I want you to know it is definitely possible to eat healthy no matter your financial situation. You can find a few ways to budget better foods into your everyday diet. I want to encourage you to keep seeking to become healthier, I was once you and thought there is no way I am going to spend a ton of money on food it's just too expensive. I was shocked to find out eating healthy was not as expensive as I thought it would be, and I am able to give my body such great nutrition.
**Setting a grocery budget:
I have to start by saying it is a MUST that you create a weekly, biweekly, or monthly budget for what you can spend for food. If you have to cut back on spending 35-40$ a week on your nails, or shopping every week, or what ever you can exclude from your spending to invest in your health do it. I am quite the shopper haha so when I first started my health journey I decided I would cut back on my weekly visits to the nail salon and maybe go 1 or twice a month instead of every week. I also would take a month off of buying clothes to invest in getting a food processor, blender, juicer etc. Yes some of the appliances are expensive but last a long time and you can start with one that's not so expensive at first just to get started.  (I had moments of wanting to shop but I would tell myself no your health and body is more important). I eat mostly organic fruits & veggies for around 50.00-55.00$ a week. So around 200.00-215.00$ a month. That's the budget I set for myself and some months I may spend more or less depending on if I need to restock on seasonings etc. The months that I need to spend more I will cut back on something else that is not as important. I have made eating healthy my lifestyle and a priority in my life. Make eating healthy a goal and a priority. Some may say ekkk 50.00$ a week that's expensive. Its really not if you truly think about what you are getting for that price. A average meal  at a fast food restaurant will average around 6.75$ per meal and up, 6.75$ times seven days  a week comes out to 47.25$(You spend around the same amount). Remember you will need to eat more than once a day. So lets say you have a fast food twice a day for 13.50$ if you times that for seven days you are at 94.50$ for a week. Now thats expensive when you consider that what you are eating is not really food and is doing more harm than good.
**Grocery List:
Create a grocery list and STICK to your list per week. DON'T go to the store hungry, you will seriously leave with items you don't need. (I know this because it has happened to me a few times until I learned my lesson haha:( I would leave spending a extra 15$ that could have been saved) Remember once you stock up on seasonings, oils, sweeteners etc these items will last a while so you won't have to purchase them every time you go to the store.
Only purchase what you need and will use. People waste soooo much money buying tons of produce than throwing it away because it went bad to quick. I have saved a ton just buying what I will need for 3-4 days than going back to grocery store. So yes this means a few extra trips to the grocery store but you wont be throwing away food as often.
I purchase items that will be more filling and last a little longer like avocados, zucchini, seeds, wild rice,grains, and legumes etc. You can do so many things with avocados and they provide good fats and nutrition and will help keep you full and satisfied. Raw seeds give you the ability to create raw burgers, breads, and are great toppers for salads to help create a more filling meal. If you eat potatoes they are inexpensive and last a while. Sweet potatoes can also be made in a variety of ways.Quinoa is a great grain that very diverse and can last a while. Again purchase items that are versatile, inexpensive, healthy, yet filling. I would steer clear of processed foods that can last 15 years on a shelf. That's clearly not food, food should have the ability to mold after a while, and not still be edible after years and years.
I also buy in bulk when I can. If you are allowed to buy per pound this is sometimes very helpful as well. This allows you to purchase exactly the amount you need instead of getting a 4 pound bag of something then it goes bad because you haven't had any time to eat it.
On a recent trip to the grocery store I was able to purchase over 34 items for about 35.00$. This consisted of mainly organic produce including kale for 1.99$, 4 kiwi for 1.00$ about .25 cent a piece, 6 organic apricots for 2.99$ about .50 cent a piece, 5 organic cucumbers for 2.49 around .50 cent a piece, 7 bananas for 1.33$ around .19 cent a piece, 1lb of organic grape tomatoes for 1.50$ and lots more. I wont name every single item haha.

**Coupons:
Don't be afraid to coupon and save money where you can. I have saved so much going to the grocery store on the days they have produce on sale. Call around and ask which day will weekly sales be going on. Then go to the store that day and stock up on only what you need.You may have to go to a few stores to get all the great deals but believe me its so worth it :-). Also if a store offers a discount card get it and stock up on points. You can truly benefit from those points later.
** Make Your Own:
I have also saved a ton of money by making my own guacamole, salsa, smoothies, almond milk, almond butter, and my meals in general. Yes it takes a little time in the kitchen, but this will save you some cash in your pocket to buy more healthy stuff haha or whatever you need to buy. I hardly ever go out to eat,why spend 25-35$ on a meal at a restaurant when you can save by making your own food. A family of four eating one fast food meal per day would cost around 27.00$ add that for a entire week and they have spent 189.00$$ on junk, non-nutritious food. Just think if that family of four eats twice a day that will cost them 54.00$ a day, 374.00$ a week, 1512.00$ a month now that is pure craziness.That is why I make my own food and have COMPLETE control over what goes into my body. Also save money by staying away from pre-cut fruits such as watermelon, pineapples, mangos etc. You will basically pay more because of labor (Someone else chopping the fruit for you). Buy the entire fruit and just chop up your self. You can even save so much if you have a baby, breast feeding is amazing for a growing child and once its time for baby food you can make your own using a food processor,baby bullet, nutribullet etc .
**Grow Your Own:
I wish I lived where I could have a garden. If you do I encourage you to grow you own produce and start a new gardening hobby. You will save so much and will have control of your fresh produce not having gross pesticides sprayed all over them.
**Farmers markets:
Compare prices of all the grocery stores. Call them, look online, or I went to each store to compare the prices of the items I buy most. I shop mainly at 3 stores all are fairly close to each other. My favorite's are Wholefoods, Trader Joe's, and Sprouts Farmers Market. Whole foods has literally any and everything you may need from spices, to raw oats, to fruits and veggies. I have found many items are more expensive at Wholefoods than at Sprouts. Sprouts is a combination between Wholefoods and Trader Joes and has a mix of prices but missing a few of the raw items that Wholefoods carry. Traders Joe's seems to have the cheaper items but not as many brands as the other two. Find the stores in your area's, compare prices, get coupons, the best deals, then go from there.
**Online shopping:
Many people are not aware that you can purchase sooo many items online for half the price at the store. I use http://www.vitacost.com/ for so many of my organic seasonings,  organic sweeteners, organic cocoa powder, flax seeds, hemps seeds etc. They offer you a discounted rate for the exact same brands you will find in store. Remember do a little research to save a little money and still have the best items.
**Organic Vs. Non Organic:
I blogged about knowing when or when not to buy organic items. This will help save you some money for the items that can be purchased non-organic. Read Here
Even if you have to start slow, just begin by incorporating small portions of organic fruits and veggies to begin. Buy what you can afford, compare prices, use coupons, shop online, and cut spending where you can to invest in your health. Let me know if you have anymore questions on how to budget better. Email me:galaxyqueen07@gmail.com or leave comment below.
Some additional tips on the foods you eat. Pictures below
Ps.Quick Tip: A great way to clean your fruits naturally which will help remove dirt, wax, and will help keep nasty Gnats away:
Fill sink with water and 1 or 2 cups of  vinegar and let soak for 10-15 mins remove.
This will also help your fruits last longer.
Happy Savings:-)
LaShana Nicole