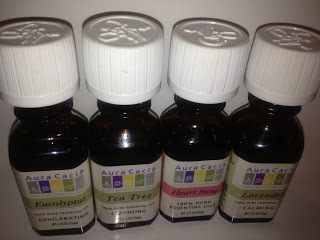 *Create your own Homemade Smelling Spa***
So  a little secret about me "I loveeeeee things that smell good, like "literally" I can sniff a heart song essential oil bottle all day long LOL. Essential oils are so diverse, has a variety of uses, and can be used as perfume(when diluted properly), mood enhancers, air freshener, and homemade cleaning products. Essential oils have so many different scents ranging from lavender, rose, lemon, orange, peppermint and tons more. You literally can create your favorite scents and make your entire house smell like a dream Ha. I now understand why they call it aromatherapy. Yum. They can be used during meditation to help balance your moods, & can be used to help give you more energy. My favorite essential oil company is http://www.auracacia.com.
Heart Song is my absolute favorite. Omggg I wear this as perfume mixed with a tiny bit of pure coconut oil and everybody always ask "what are you wearing, you smell so good". I am in love with this scent, it really does make my heart sing lol, the name is perfect. It's a mix of a few different essential oils. Guess what I found it on sale almost half off the retail price. Yippeeee Buy Here
Place 5-10 drops in bath water.
Lavender oil is used in so many items even skincare. The scent is amazing. Yes I sniff my lavender bottle too. Haha. Told you guys I love things that smell good. Be sure when you purchase, you find essential oil which is a more pure form that is extracted from the actual plant. Lavender is described as "calming" & "relaxing" and I must agree.  It can also be used when diluted properly for healing on skin conditions/scars. Place 5-10 drops in bath water. Purchase Here 
Eucalyptus is another powerful oil. If you have a stuffy nose take a sniff of this oil. It is a decongestant, antibacterial, antiseptic and can be used to help fight cavities Read More Here.Eucalyptus oil is also known to help keep bugs away if mixed in with your mop solution. 2-3 drops in bath water. Buy Here
I use one more product to create this dream spa scent in my bath water. Its called Mustard Bath. It is know to help alkaline the body.  This packet will last 3 or 4 baths. They have a bigger size as well. I found it onsale for a little over 2 bucks.  WOOT! Buy here
Mix those oil's together in your bath,add your favorite scent's, light candle's cut off all the lights in your home and experience pure relaxation. Ahhhhhhhhh
I also use a shower filter to clean my water and help remove the chlorine. I've been using a filter for years since I was in college. It works great and will leave your skin and hair feeling soft. Its called Rain shower you can purchase off Amazon Purchase Here
Yes I agree I am a Health Nut, this is not something I just started Ive been living this way for a long time lolol.
Ps. One more fun trick for you 🙂
Make your bed smell yummy and keep dust mites away. (while washing your blankets)
*2-3 tablespoons of Baking soda (Add more for the bigger your bed)
* Mix 2-3 drops of Eucalyptus & heart song or lavender (Or pick your favorite lemon oil works too)
* I use a paper cup to shake and mix the ingredients. Then sprinkle mixture on bed and allow to sit for a hour or so before placing your blankets back on bed.
Happy Relaxation,
Shana Nicole