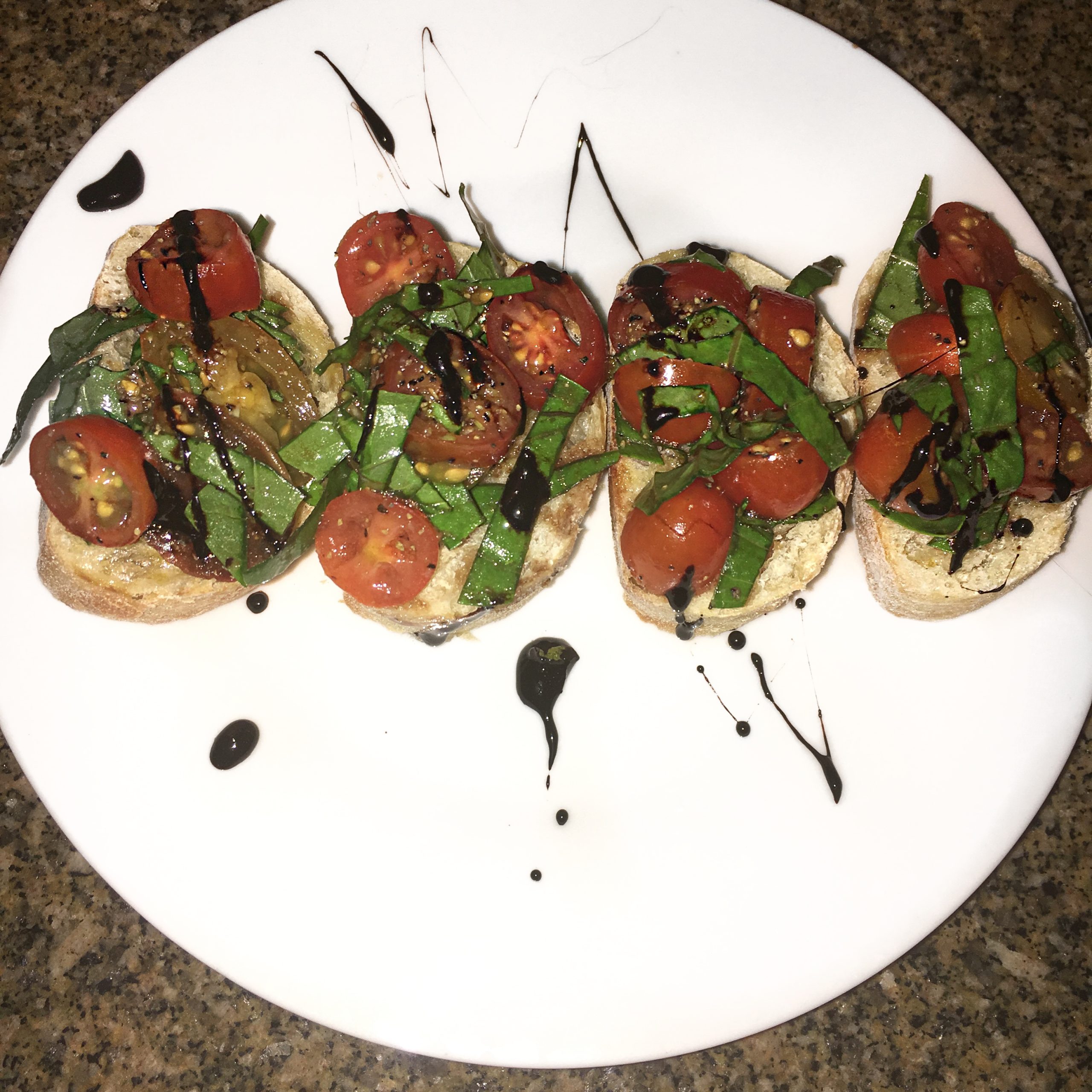 *Bruschetta Baguette*
I found organic french baguettes at Trader Joes and I couldn't wait to get home and make some raw bruschetta with them. This is the perfect dish for lunch or an evening snack. I hope you guys love it!
* Brushetta Baguette*
Serving Size: 10-18 baquettes (depends on how big you slice your bread)
Ingredients (all organic):
1 Organic French Baguette Roll (Slice into 1 +1/2 inch pieces) Find Here>>French Baquette
20  Cherry tomatoes ( Rough Chop + I used multicolored from Trader Joes)
10 Fresh Basil Leaves ( Rough Chop)
2 Grated Garlic Clove
1 tbs of Balsamic Vinegar
1+1/2 Tbs of Extra Virgin Olive Oil
1/2 Teaspoon of Himalayan Pink Sea Salt
1/2 Teaspoon of Black Pepper
 1/2 Teaspoon of Garlic powder
Balsamic Reduction Ingredients:
1/3 Cup of Balsamic Vinegar
Directions:
1. Add 2 Tbs of olive oil to a pan + 2 grated garlic cloves and allow to warm for 1 min on low heat
NOTE: The 2 tbs of olive oil and 2 garlic  cloves is additional outside of those needed for the bruschetta recipe)
2. Slice your baquette into pieces + brush your bread slices with the olive oil garlic warm mix
3. Place your seasoned garlic baquette slices into the oven and allow to warm at 300 for 10 min
4. While those are warming add your 1/3 cup of balsamic vinegar to pan
5. Heat on medium until it boils for 5 mins + remove glaze and set to the side
6. Toss all  of your bruschetta ingredients inside mixing bowl (be sure to chop tomatoes + basil)
7. Mix your tomatoes + basil + grated garlic + balsamic vinegar + oil + seasonings + evenly coat
8. Next remove your toasted baguettes + spoon your bruschetta on top + drizzle balsamic glaze
9. Eat right away! Store additional bruschetta inside refrigerator and consume within 2 days!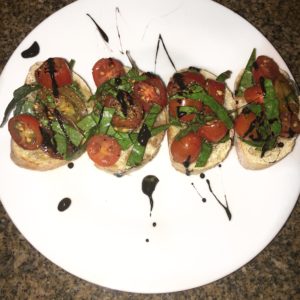 Health benefits:
Basil– Is one amazing herb, it has antibacterial properties that help boost the immune system and fight off illness as well as bacteria. Basil is high in beta carotene, magnesium, essential oils and is very rich in antioxidents which helps promote a healthy heart, cardiovascular health, active blood flow, as well as the healthy skin. 

Tomatoes– Are amazing when it comes to helping the body maintain optimum health. Lycopene found in tomatoes help drastically with fighting off illness especially several forms of cancer including prostate & breast cancers. Tomatoes are also a great source of fiber, beta-carotene,vitamin A & C, which help with fighting off free radicals and premature aging.

Garlic– Is great for its antiviral properties. Consuming garlic will help with fighting off allergies, viral fungal & bacterial infections. Garlic contains ajoene(a sulfar rich molecule) which helps with thinning our blood helping to reduce the possibility of blood clots. It also contain allicin which helps with reducing & controlling  the blood pressure.
Thanks so much for checking out this recipe. I hope you all love it. Comment below and let me know your thoughts! Don't forget to share the website with your friends and family♡
ANNOUNCEMENTS📢📢:
**Our Best- Selling Vegan Unisex Deodorants are BACK IN STOCK! GRAB them now> HEALTH STORE
** The Be A Health Nut Too Hair Growth Oil is FINALLY available and receiving amazing feedback! If you're dealing with damaged hair, balding, or looking to restore the health of your hair. SNAG some now> HEALTH STORE
** Our Beauty Soaps always sell so fast! We only have a few blends left in stock.
** You can also now watch inspirational videos + raw food tutorials on my Youtube channel. The Youtube page link is at the top of the website!
** THANK YOU so much lovelies for your love and continued support! I adore each and every one of you!
Hugs & Happy Brushetta Baguette Eating,
LaShana Nicole❤