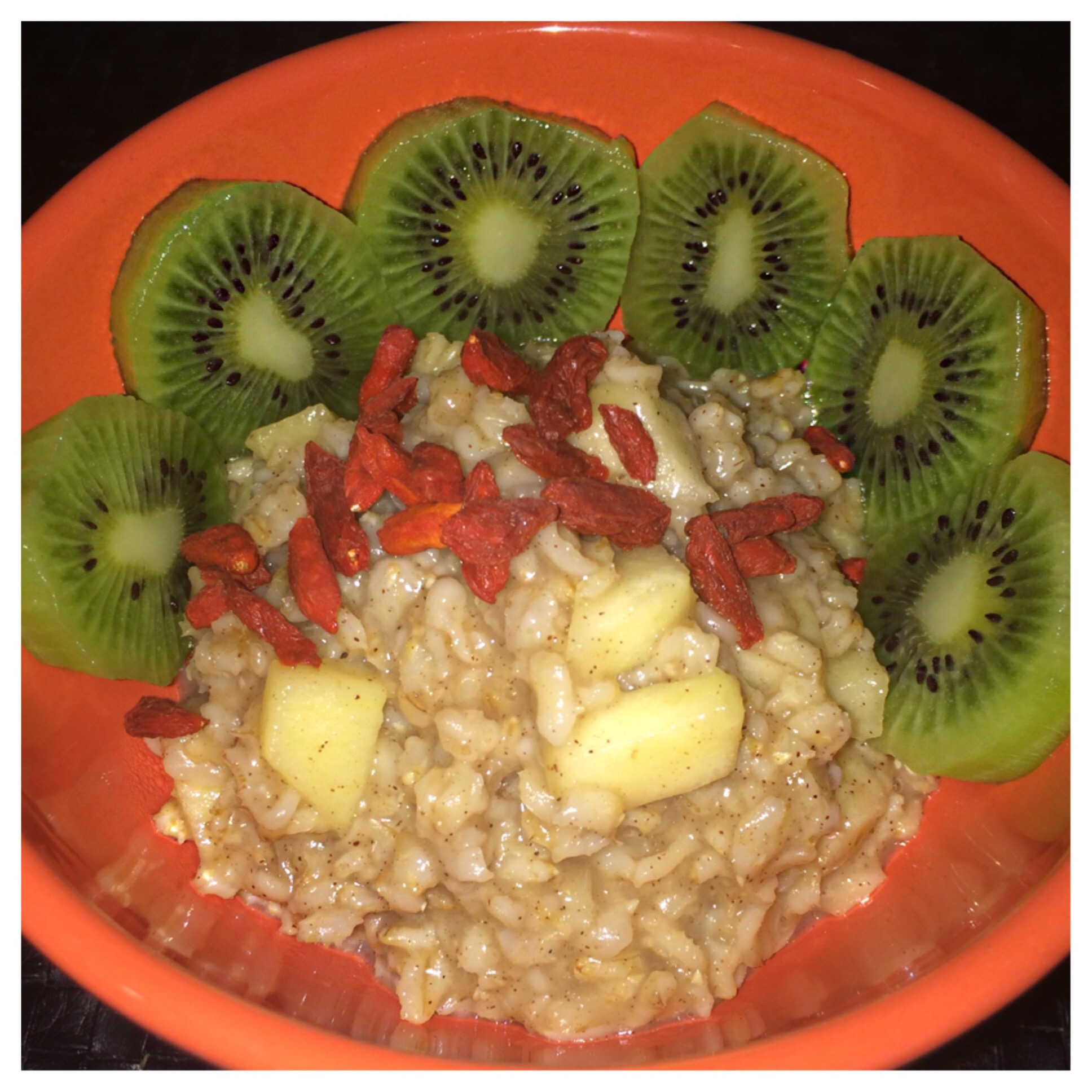 *Apple Spiced Porridge*
Who doesn't love warm, filling, delicious, porridge made from scratch in the morning. No more buying boxed processed sugar-filled oats. Here's a easy tasty recipe for your morning oats. Enjoy Lovelies❤
*Apple Spiced Porridge*
Ingredients:
1 Cup Sprouted Oats ( Find at whole-foods in the bulk section or down the cereal aisle)
2.5 Cups Water 
4 Rough Chopped apples (I removed the skin this is totally optional)
3-4 Tbs Organic Maple Syrup (Grade B) or Raw Agave Nectar (add more sweetener to taste)
1/2 Tsp Cinnamon
1/2 Tsp Nutmeg
1/2 tsp Vanilla Flavoring
2-3 Tbs Melted Coconut Oil
Toppings: Fresh Apples, Kiwis, GojiBerries
Directions:
1. Place oats in pan + add water + boil on med heat for 12-15 minutes until soft+ fluffy
2. Drain/Pour most of all the water out of your pan (I used a strainer to catch any oats)
3. Once most of your water is out add coconut oil + 3 rough chopped apples + all ingredients to pan
4. Stir all ingredients + allow to cook for 3-5 more mins until you achieve the oatmeal your preferred oatmeal texture. 
5. Place your oatmeal inside serving bowl +sprinkle cinnamon + nut meg on top
6. Add fresh apples + fruit toppings of choice + eat right away!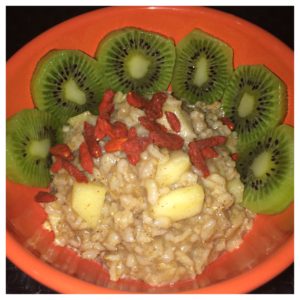 Thanks so much for checking out this recipe. If you try it be sure to leave a comment and don't forget to share the website with your friends and family♡
Announcements:
** GUESS WHAT everyone the BeAHealthNutToo Vegan Herbal Supplements are FINALLY available. Our herbal formulas are Vegan, Cruelty- free, and contain No Chemicals, Toxins, Additives, or Junk.We have 8 formulas available and a VERY limited quantity in stock. They are already selling SO fast and we only have a couple left of some in stock. Grab yours NOW while supplies last. Click Link to order>>> Yes I want to order NOW!
** GOOD NEWS the BeAHealthNutToo Beauty Soaps are back in stock and they are selling fast! We are SOLD OUT of the Lemongrass Sensation, Peppermint Love, Grapefruit Bliss, and only have 1 Lavender delight and a few of the other blends left in stock. Don't miss your opportunity to order NOW before we SELL OUT again. The beauty bars are completely ☆Vegan☆All Natural☆Organic☆ and Toxin-free☆ and LESS than 5$. No more using chemicals on your skin. If you haven't order yet, what are you waiting for?? Snag yourself or someone you love a gift today click here>> Order MINE now
** We are so excited to announce that BeAHealthNutToo is expanding into a health and wellness store. We will still feature new recipes and all the things you already love, with the addition of products. 
** Don't miss the monthly encouragement newsletters, health tips, freebies and more. Subscribe today!
** You can also now watch inspirational videos + raw food tutorials on my youtube channel. A new video just went up called (De-Stress Your Life), youtube page link is at the top of the website. Enjoy!
Hugs & Happy Porridge Making,
LaShana Nicole ❤