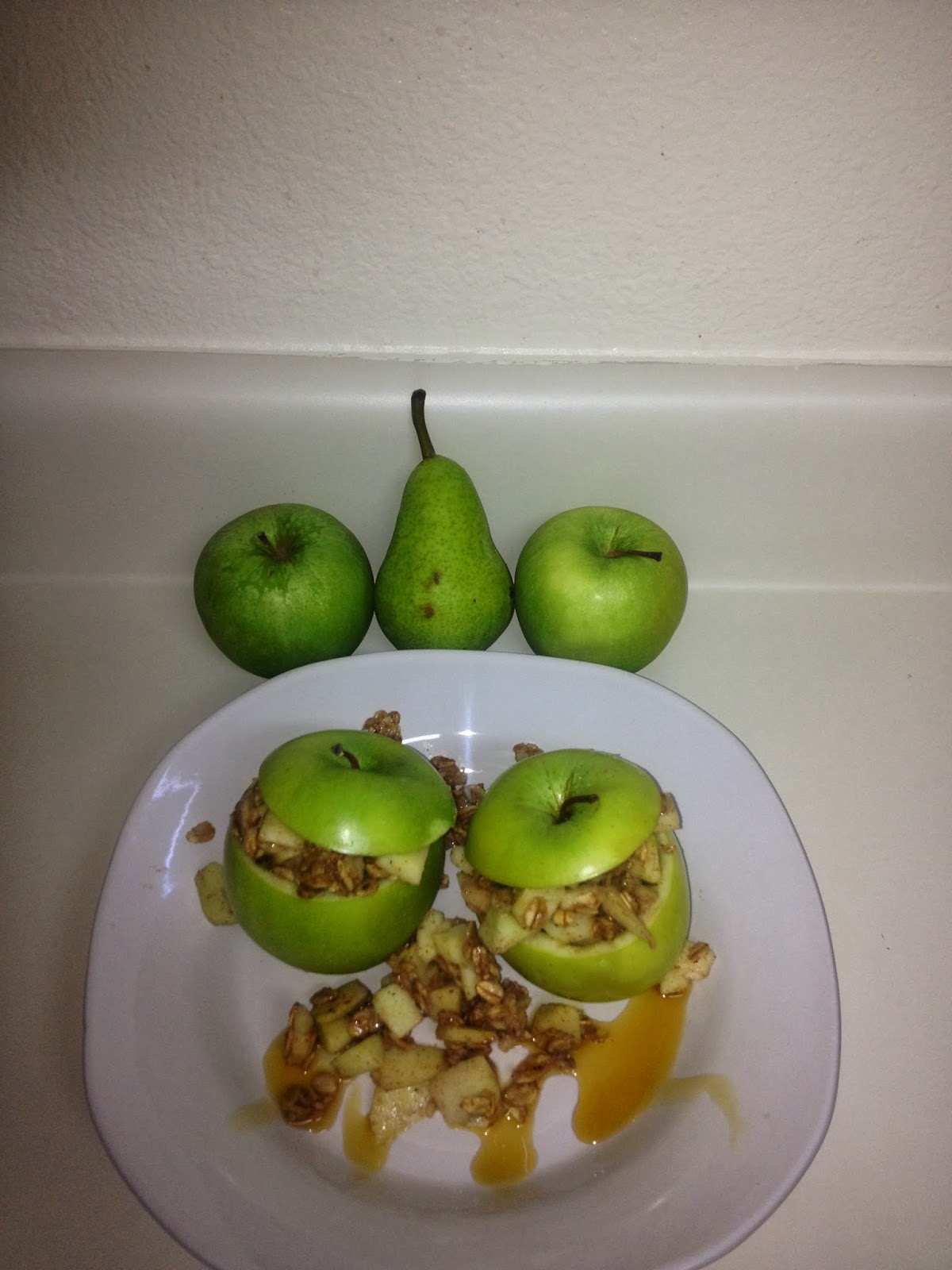 *Apple Oat Bites*
 Quick, easy breakfast coming right up. I love apples so combining oats made this dish more filling
**Apple Oat Bites**
Ingredients:
3 Fresh Apples
1/4 cup of gluten free rolled organic oats
1/4 cup of almond milk
1 teaspoon of coconut oil
1 teaspoon of cinnamon
1/2 teaspoon of nutmeg
3-4 tablespoons of 100% maple syrup (depending on how sweet you prefer your oats)
Directions:
1. Place your oats + cinnamon +nutmeg + almondmilk + maple syrup + coconutoil inside pan on stove
2. Cut heat on med/low setting and allow to cook for 7-10mins until mix is sticking together
3. While your  oat mix is cooking slice the tops off your apples
4. Take a knife and cut a circle inside the apple creating a bowl shape + take spoon and scoop out inside of apple
5. Lay scooped out apples aside to mix inside the oat mix
6. Next slice another fresh apple into tiny slices then add the fresh apples to oat mix
7. Make sure you stir your oat apple mix
8. Allow to cook for 2-3 minutes
9. Scoop the entire apple oat mix inside your apple bowls + drizzle maple syrup
10. Enjoy 🙂
Thanks so much for checking out this recipe. If you found this blog helpful leave a comment and be sure to share it with friends and family♡
Announcements:
** We are so excited to announce that BeAHealthNutToo is expanding into a health and wellness store. We will still feature new recipes and all the things you already enjoy with the addition of products. We are currently finishing up some vegan herbal supplements and I can't wait to share them with all of you.
** BeAHealthNutToo now has it's very own completely ☆Vegan☆All Natural☆Toxin-free☆ beauty soaps. No more using chemicals on your skin. We are SOLD OUT of the lavender delight beauty bar and only have a few of the others in stock. They are the perfect stocking stuffers. Snag yourself or someone a gift today click here>> Order Mine NOW
** Don't miss the monthly encouragement newsletters, health tips, freebies and more. Subscribe today!
** You can now watch weekly inspirational videos + raw food tutorials on my youtube channel. Link is at the top of website.
Hugs & Happy Apple Oat Bite eating,
LaShana Nicole